Below you will find a selection of some of the best artists in Cornwall,
we are constantly adding to the page so keep checking back for updates.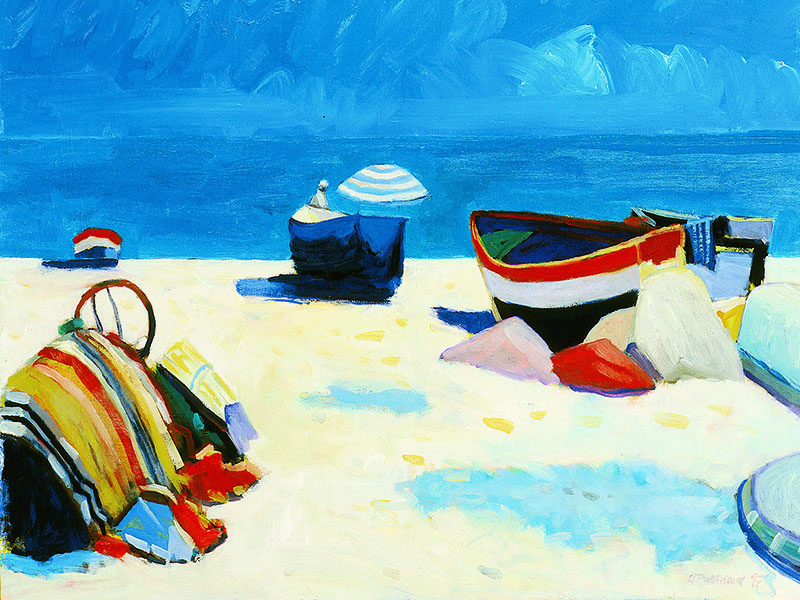 Alan Furneaux
Greetings contemporary art fans, and welcome to the contemporary art world of (relatively) new (to us, anyway) and terribly exciting landscape artist, Alan Furneaux. A thoroughly modern artist who's so good at what he does, a percentage of his unique designs have lent themselves to greetings card covers recently.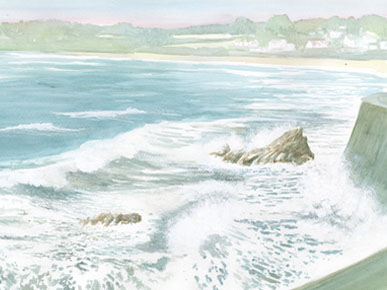 Al Cazu
Al Cazu (Alan G Williamson) is an artist working and living in Cornwall. This collection of pictures titled 'Coast To Coast' has been created during the spring of 2012, originally painted with watercolours. These images are available as limited edition high quality digital prints numbered 1-100 and hand signed by the artist.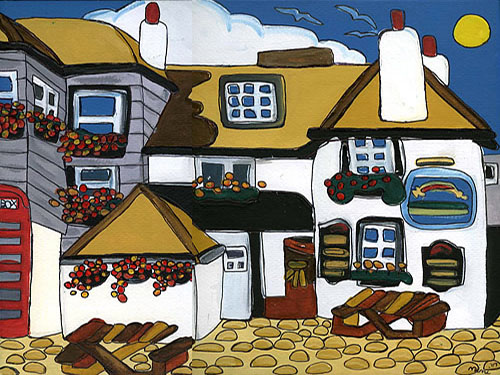 Amy Winfield
Amy Winfield, who is also known by her artist's name Mimi, has a growing reputation for her art and photographic work throughout Cornwall. When I was younger I was always painting and drawing, like any normal kid.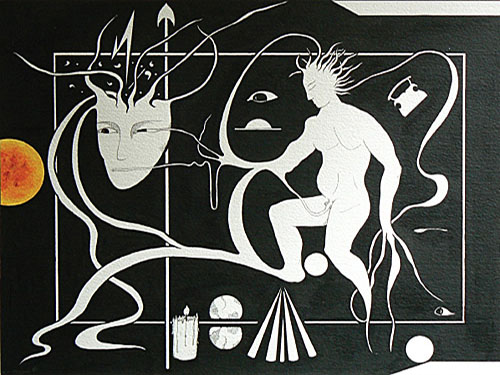 Barbara Le Moigne
Barbara grew up in the South East of England but has spent most of her working life in Cornwall. She has exhibited extensively in the UK and North America and has built up a broad clientele in both markets.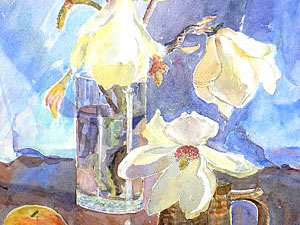 Beth Berriman
Beth Berriman was born in 1920 in Camborne and has been living and working as an artist in Cornwall ever since. Her passion for tracing the delineations of the landscape, as well as the human form, in all its vitality and delicacy, has meant that her work contains a poignant history of both Cornwall and its inhabitants.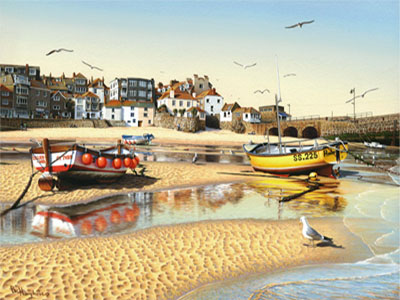 Brett Humphries
I have always had a keen interest in the arts, taking A levels in graphic design, photography and fine art, then continuing with a one year foundation course in art which confirmed that painting is my passion. The last part of my formal art education was undertaking a BA Hons Degree in Scientific and Natural History Illustration at Lancaster University.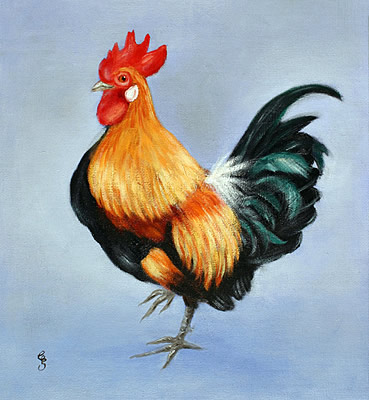 Catherine Stringer
Catherine paints human and animal figures. Her favourite subjects are beach scenes and adaptations from period drama. For many years Catherine painted miniature porcelain which was sold nationally. Catherine moved on to paint portraits in oil and has also developed her skills in acrylic and pastel. A major influence on her work has been the Newlyn School of Artists. Her work is sold as both originals and high quality Giclée prints. Prints can be purchased by individuals or retailers gallery wrapped for retail sale.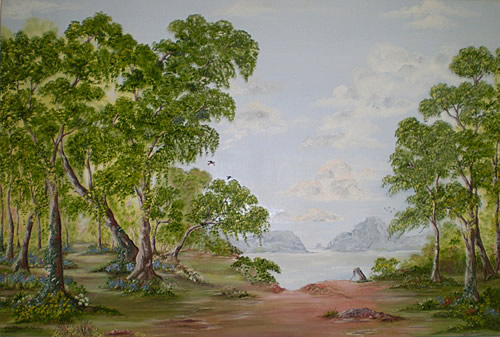 Christine Norley
All the proceeds from my paintings and other art work are donated to charity i.e. Childline. Street Children of Brazil. I was born in the West Country (but currently living in The Vale of Glamorgan) and brought up amongst the rolling countryside and woodlands of Somerset which instilled in me a deep rooted love of all things in nature.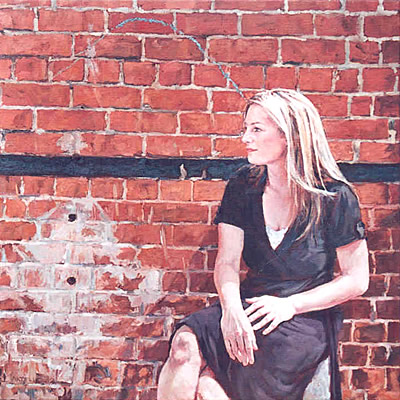 David Axtell
David Axtell is a painter and illustrator working mainly in oils on canvas. Featuring landscapes combined with figurative elements reflect his interest in the ever changing surroundings of Cornwall where he lives. David is a former graduate of Falmouth School of Art and Design. He is interested in the relationship between the interaction of people and the sea. From landscape studies to wide panoramas David is searchttps://artistsincornwall.com/wp-admin/admin.php?action=duplicate_post_save_as_new_post_draft&post=14685&_wpnonce=7796922a5ahing toward a gradual unspoken narrative which draws the viewer into his paintings.o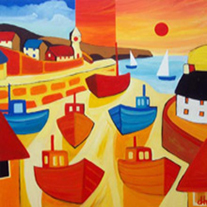 David Hosking
David Hosking was born in Cornwall in 1943. Inspired by his art teacher at Helston grammar school, David studied briefly at Falmouth School of Art and then at the West Midlands College where he was awarded a Distinction for his Art. After 30 years of teaching David retired from teaching in 1995 to devote his time to painting.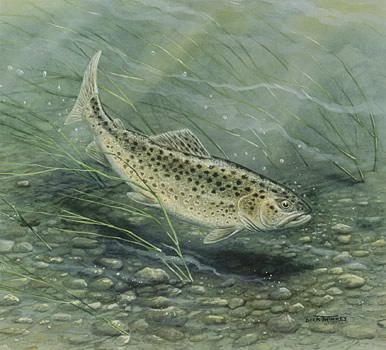 Dick Twinney
Dick Twinney has loved the Westcountry's wildlife and countryside for as long as he can remember. Originally from Devon, he has lived and worked in Cornwall for over 35 years. Although his paintings, prints, collectors plates and giftware have spread worldwide and many of the books he has illustrated are American he still thinks of himself as a local artist, passionate about Cornwall, its' scenery and its' wildlife.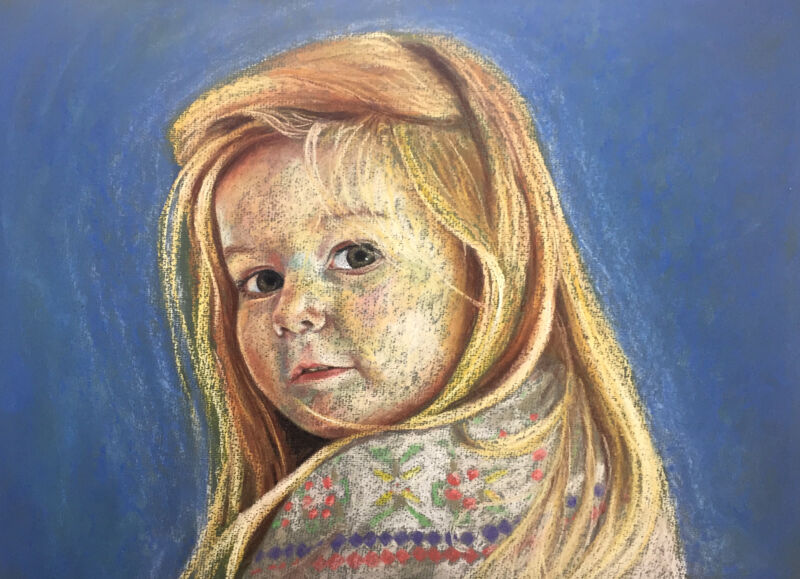 Gabrielle de Glatigny
Gabrielle de Glatigny is a portrait artist based in Cornwall. Her beautiful and bespoke portraits in pastels and pencil crayon capture the sitters unique character. Her expressive style focuses on capturing the true spirit of the person. She specialises in children's portraits but also enjoys drawing adults and pets. She has a studio at The Old Bakery Studios in Truro.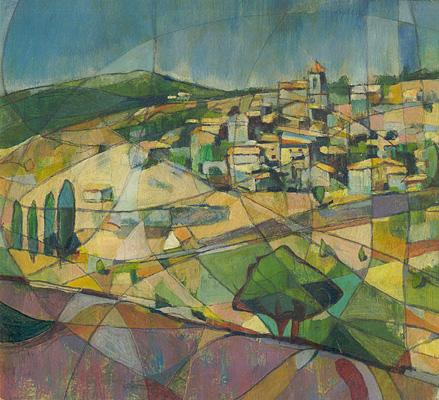 Gavin Bloor
Gavin Bloor is an emerging contemporary artist and illustrator, whose art work incorporates oil painting, mixed media and printing. He is a versatile artist who is adept at landscape painting and portraits as well as graphic illustration.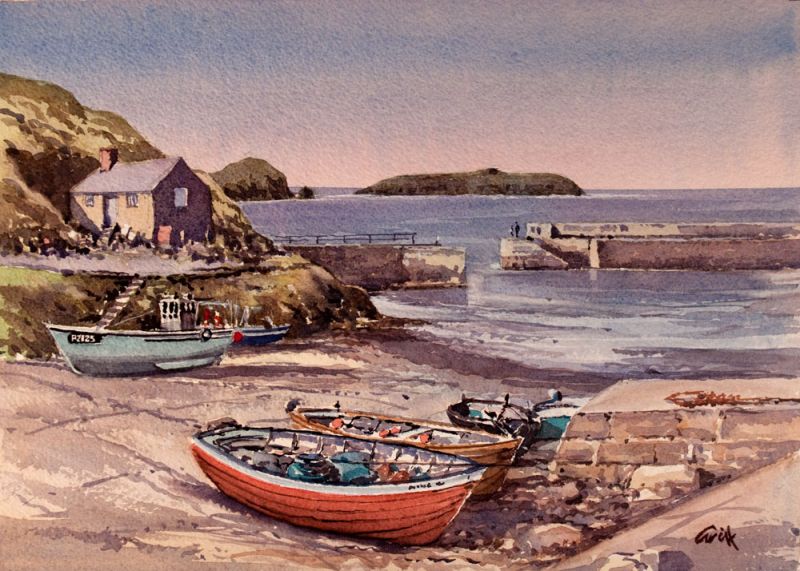 George 'Griff' Griffiths
At the age of 13 Griff won a scholarship to Wakefield School of Arts & Crafts using the same handheld instruments to make marks and the same pigments ground to make paint as had been used for centuries. This was the foundation for his work in the years to come.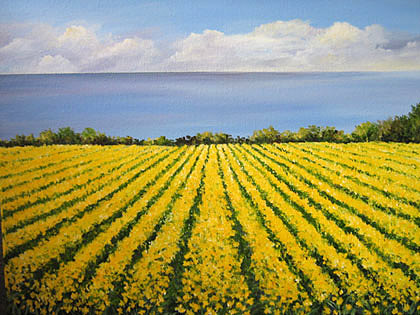 Gillian Jansen
Working in acrylic, watercolour, ink and pastel, Gillian's favourite subjects are seascapes, woodlands and the wild rugged landscape of Cornwall, all to be found in close proximity to where she lives and works in Falmouth.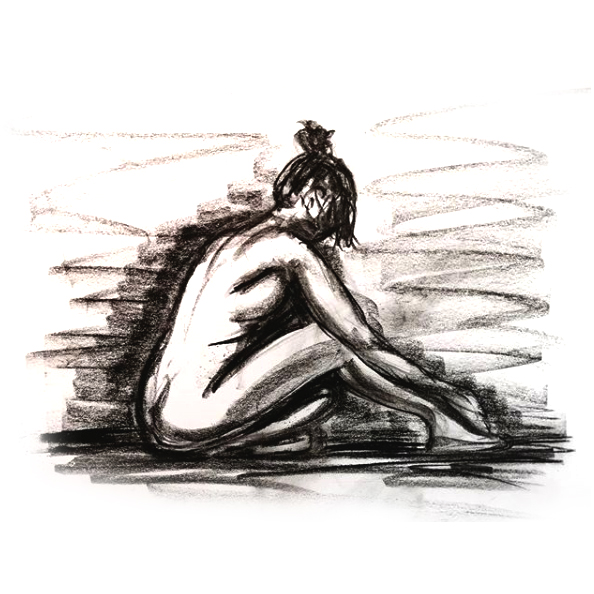 Gilly Ridge
I am a professional artist, working from my home in Cornwall, creating an eclectic range of original artworks on paper and canvas. You can browse and buy art from my current collection or with my wide range of styles, I can create bespoke commissions; working closely with you to create a personal drawing or painting to fit your personality, interior design or business perfectly.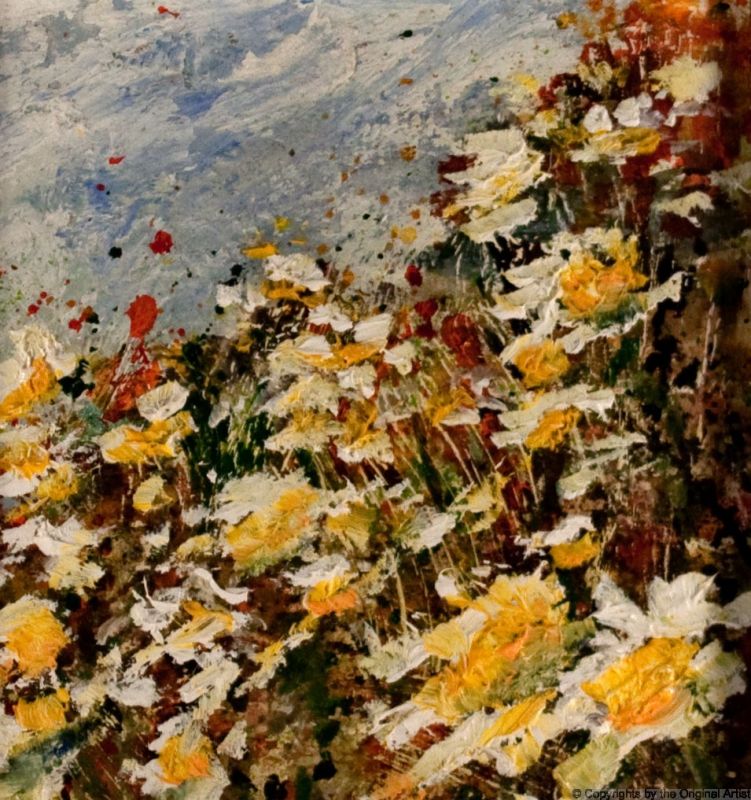 Ian 'Griff' Griffiths
Capturing the essence and spirit of the subject is my overriding consideration and challenge when painting wildlife. Sometimes it is in illustrative details other times it will be in heavy impasto and when out sketching watercolour and ink is the preferred choice. I sketch on my tablet and even create sculptures if I feel that better represents the subject in front of me or within.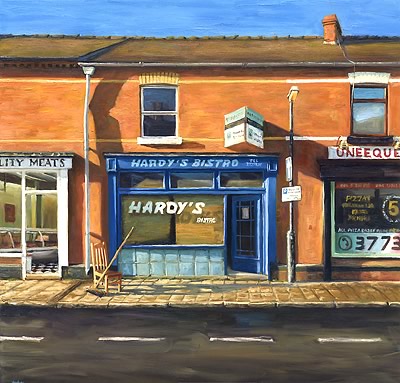 Jay Hurst
I was born in 1971 in Lancashire and almost immediately began illustrating fantastic stories around the age of four. I think I later became an illustrator to avoid getting a proper job, which backfired disastrously when I discovered that not only is being an illustrator considered respectable in some quarters, its also bloody hard work. Thankfully despite winning awards my illustration career was short-lived enough allowing me to become a rather more disreputable 'fine artist,' quite painlessly.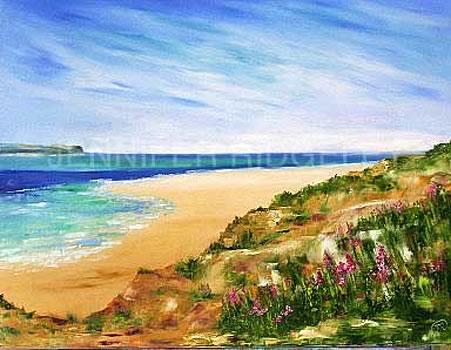 Jennifer Ridgeley
Jennifer Ridgeley was born and educated in the borough of Richmond on Thames. Moving to Hertfordshire in her twenties, she gained her teaching degree there in the late 1960's, taking Art as her main subject. Her work at that time was much influenced by Morris Louis (1912-62.) and his "veils".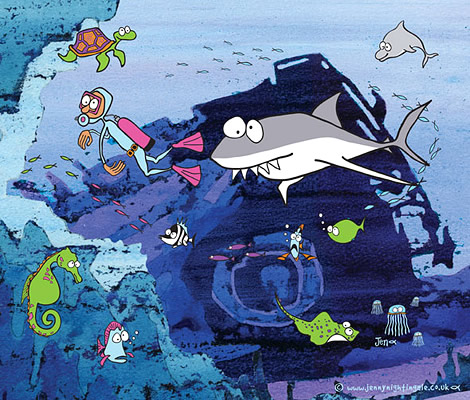 Jenny Nightingale
Jenny Nightingale is a freelance illustrator specialising in children's illustration for a variety of print and web based media. Jen has worked on a wide variety of projects including children's books, educational illustration, editorial illustration, games, gift products and web illustration for clients such as Macmillan Publishers, Cambridge University Press, Penhaligon's Friends, The National Marine Aquarium and The National Maritime Museum.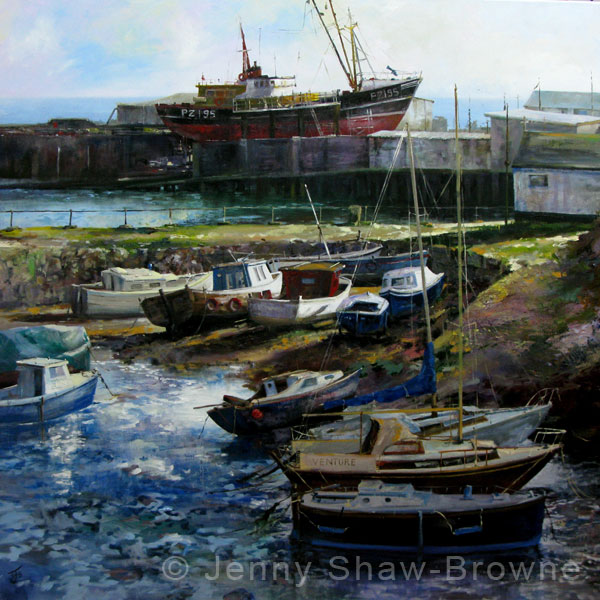 Jenny Shaw-Browne
I was born in Nottinghamshire on the borders of Sherwood Forest, part of a traditional farming family. After an "A" level in art, I progressed to an honours degree in Archaeology and Ancient History extensively utilising my interest in archaeological illustration and artefact drawing.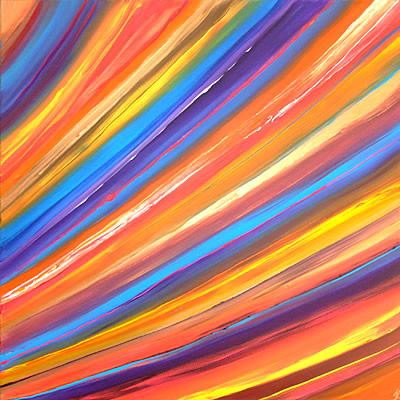 Jessica Cudlip
Jessica Cudlip is a contemporary artist who works from her studio in the south west of Cornwall. Jessica's own exploration of media, coupled with the study of Art and Photography at Truro College has allowed her to develop a unique approach to landscape depiction. In more recent times Jess has been exploring the use of textiles and torso/ pregnancy bump casting as an add-on to her more environment-inspired work. Jess accepts bump casting commissions.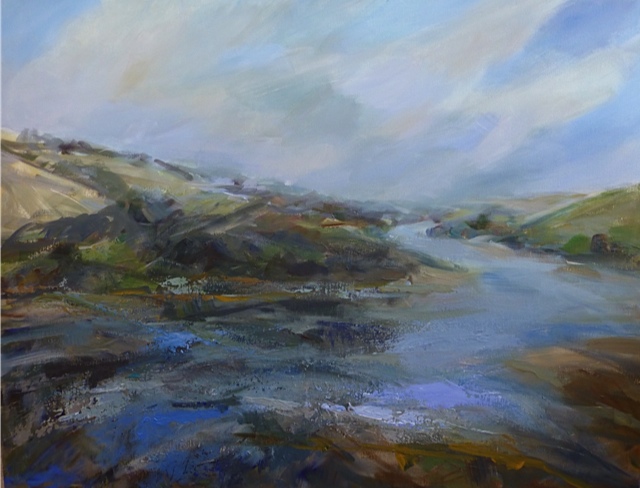 Joanna Commings
I have been painting and drawing all my life and have taken many courses over the years. Although originally concentrating on portraits, which I really enjoy and for which I still take commissions, love of landscape painting began with my move to Cornwall in 2002.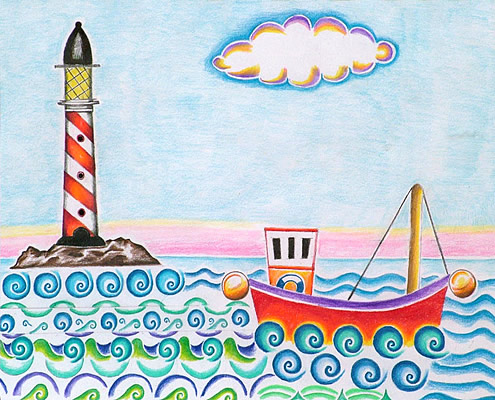 Joanna Stevens
Joanna Stevens grew up in west Cornwall and from an early age was passionate about art, often going out to sketch the animals on the family farm. She went on to study Illustration in Cornwall for three years and has perfected her own unique style that captures the liveliness and movement of the picturesque Cornish harbours and fishing villages. These images are all available as greeting cards and mounted prints.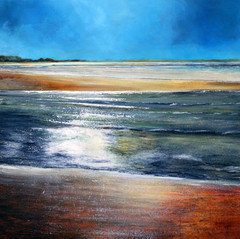 John Tregembo
John Tregembo was born in padstow and grew up with the Atlantic ocean on his doorstep, from an early age he learnt to capture the world around him through his drawing and painting and has over the years developed a style all his own which is more to do with the feel of a place rather than actually a named place that can be recognized, he walks his Dogs most days along the camel estuary before starting work and on many an occasion will pick up on something that inspires a painting that is fresh in his memory.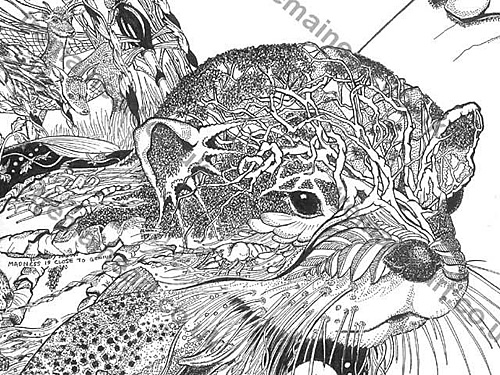 Jon Tremaine
Born in the heart of Cornwall contemporary artist Jon Tremaine has been inspired by Cornwall's natural beauty and in particular the wealth of wildlife that resides in the county. His unique escapism style of Pen and Ink illustration captures the beauty of animal and plant life in the most amazing way.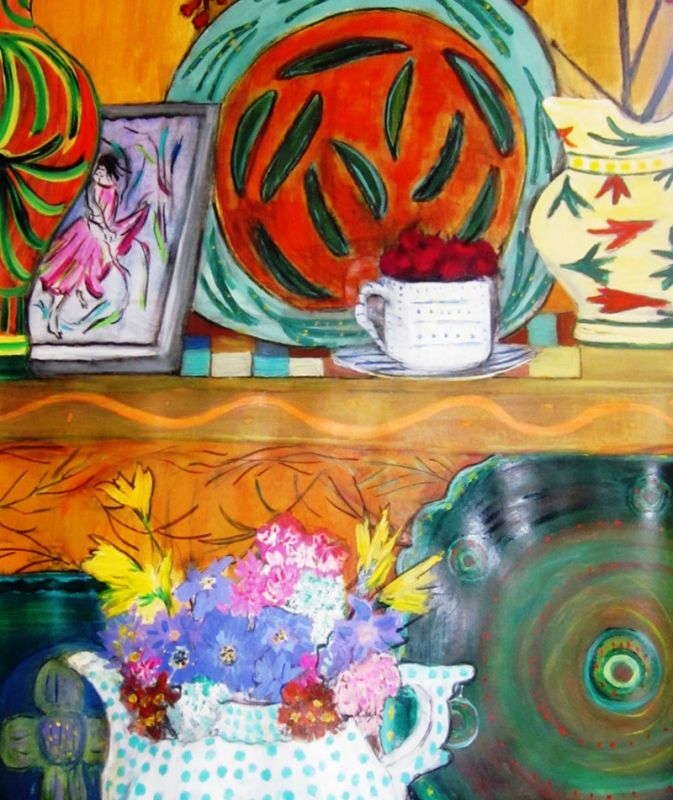 Judy Lusted
Judy Studied for two years at Chelsea College of Arts and obtained a BA.Hons in Fine Art and a Masters in Visual Art at Falmouth College of Arts. This background enabled Judy to develop a unique style. Spontaneous mark making is the core of the work and this source Judy drawn out the imagery that exciters her. Recently made of the directors of the St Ives Society of Artists Judy is actively involved with local artistic events.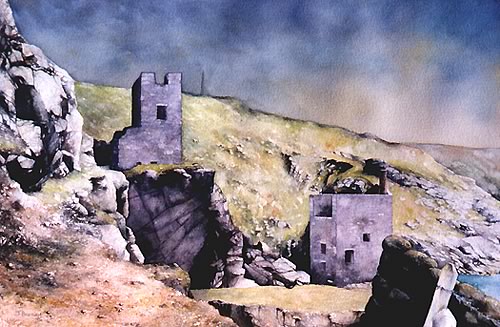 Julian Beesley
Julian Beesley specialises as a watercolour artist, studying the local Cornish landscape. In 1998 he won the prestigious Best Watercolourist prize in the Artists in Cornwall competition.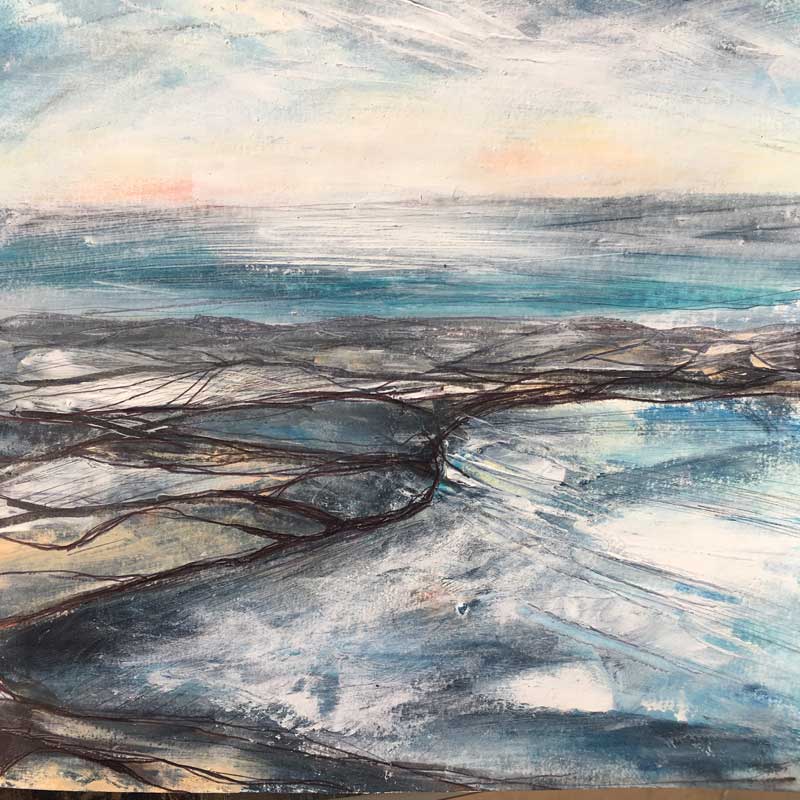 Katrina Slack
Katrina Slack is an artist based in St Ives Cornwall. She works in a range of mediums both as a painter and a sculptor. Her sculptures are made from wire and found materials; mostly materials washed up on the shoreline e.g fishing line, net and plastics.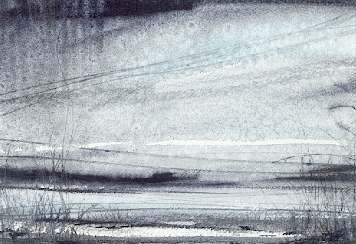 Keran Gilmore
Born in 1969 in Cornwall. Keran has always lived and worked in St.Ives. She started drawing and painting as a child and has always followed that pursuit. She majored in Art all through school and as a graphic artist/illustrator in St.Ives. Keran also studied Fine Art for 2 years at Falmouth School of Art, gaining a diploma.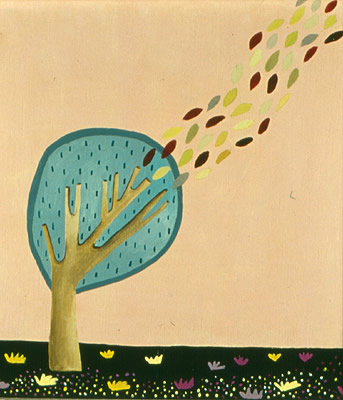 Liz Toole
Liz Toole now lives and works in Brighton after spending the majority of her time between Shropshire and Cornwall. After graduating from an H.N.D. in ceramics at Cumbria College of Art and Design she then went into the second year of a ceramic degree at Cardiff Institute of Art and Design.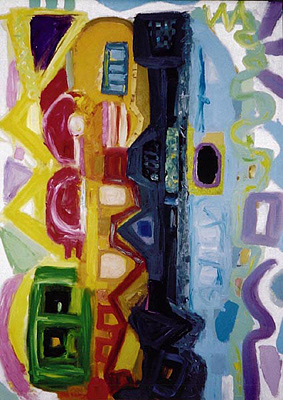 Marjana Wjasnova
My art is a spiritual quest for 'Truth' – the truth that exists in each and every one of us. I work towards a purer reflection of that truth. Each brushstroke is a search which brings me closer to an answer – but the questions are endless. Thus my art is a synthesis of my inner reality at a particular point in time.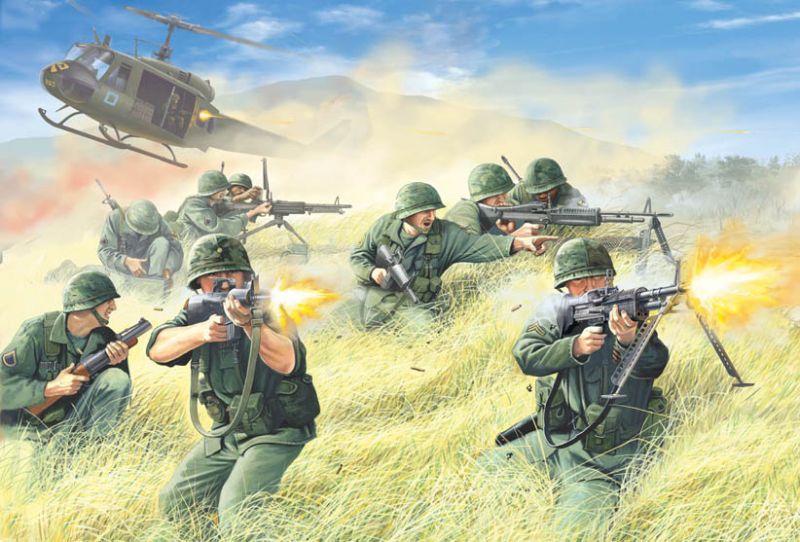 Mark Stacey
Mark Stacey is a freelance illustrator with over 25 years' experience, who has been living and working in Cornwall since 1999. He specialises in historical and archaeological reconstructions and military history. His extensive portfolio of highly detailed, figurative work includes limited-edition prints, and commissions from some of the UK's leading publishers as well as the National Trust and Natural England.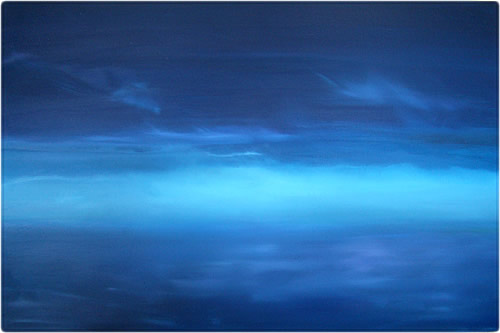 Matthew Buchan
Matthew Buchan is a local artist living and working in Grampound. Fangorn Studio is an old summerhouse converted for use as the artist's workspace, nestled amongst the many trees and vegetable patches in the grounds of the home he shares with his muse, Victoria, two family members, one crazy cat and five chickens.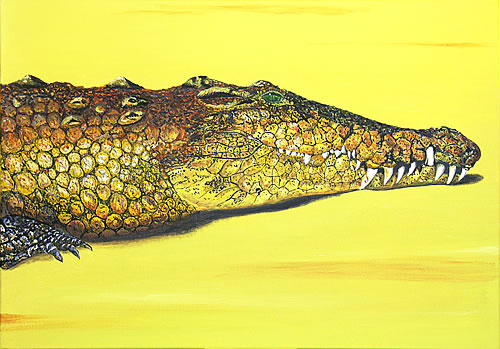 Michael Calder
Mike Calder is a designer. He started, after a Masters in Control Systems Theory, by designing machines and tools, and went on to design computer systems and their human interfaces; his work here is in use in every continent of the world, except Antarctica.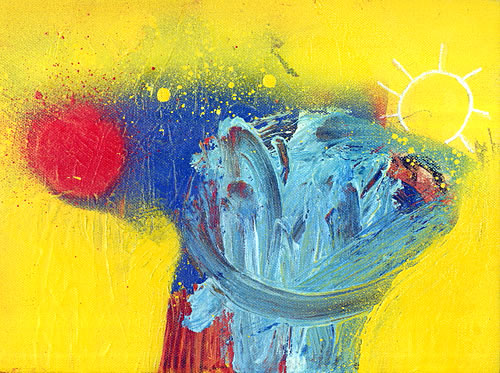 Nathan Pendlebury
Nathan Pendlebury studied Fine Art at Warrington Collegiate Institute and also at Liverpool John Moores University. He grew up in the North-West of England in Chester, Salford, Manchester, and Warrington. Nathan lives and currently works full-time for National Museums Liverpool, he also has his a studio space in Liverpool City Centre.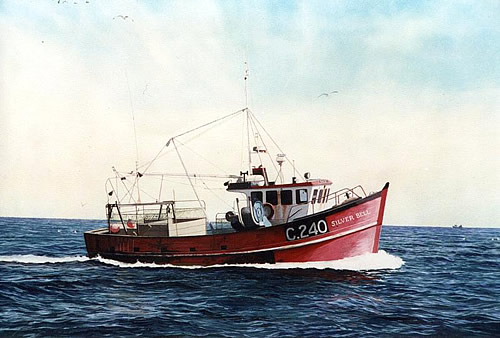 Nick Praed
Nick was born in the fishing village of Newlyn in 1974. When he was 18yrs old he started netting whilst painting in his spare time. Nick moved to Ireland when he was 23yrs old and fished out of Dunmore East near Waterford. During this time he also went travelling round the world, fishing in Western Australia along the way.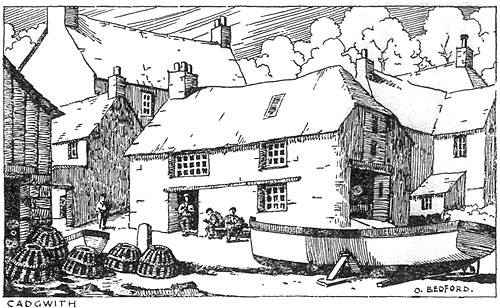 Oliver Bedford
He was born in Yorkshire and spent his early years at school in Hanover and Rome. In 1921 he studied at the Royal Institute of Fine Arts in Rome, where he was awarded the title of Professor of architectural design in 1924. After travelling Italy and Egypt he returned to England in 1925.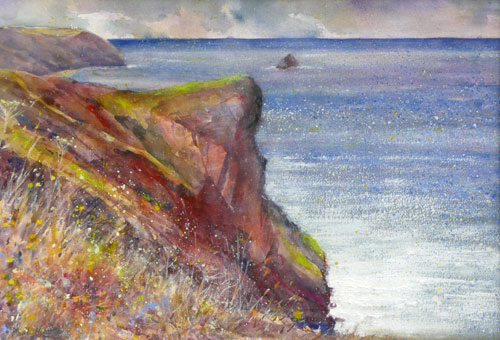 Paul Hoare
For the second year Paul Hoare has had his work accepted for the prestigious Royal Institute of Painters in Watercolour Exhibition at the Mall Galleries, Pall Mall, London. This is a highly competitive selected exhibition featuring the leading artists in Watercolour throughout the UK, including his Royal Highness, Prince Charles.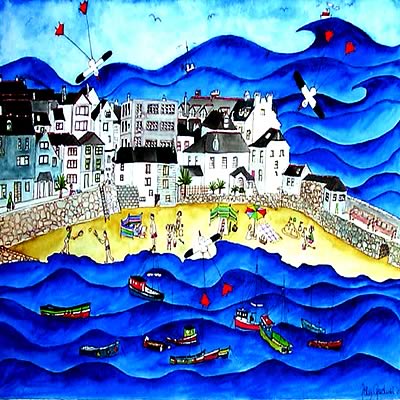 Polly Gardiner
Polly Gardiner lives and works in Cornwall producing textiles, paintings, prints and cards. Having completed a Foundation course at Falmouth School of Art in 1992 she went on to do a BA in Textiles at the Surrey Institute of Art and Design, Farnham from 1993 – 96.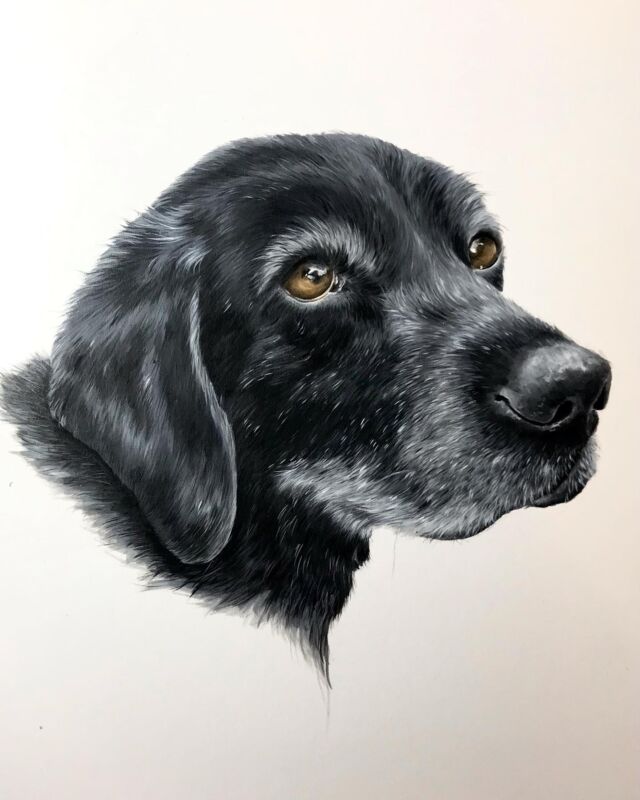 Poppy Sproul
Poppy Sproul is an Equine and Pet Portrait Artist based in Cornwall. Her artwork aims to communicate both the spirit and sensitivity of the animal in a realistic format using the medium of acrylics.
Rachel Axtell
Illustrator Rachel Axtell uses bright and colourful images within her work. She has produced a large number of designs for greetings cards, sold mainly to charitable friends and family. She also has cards on sale in Becky Biddles in Falmouth.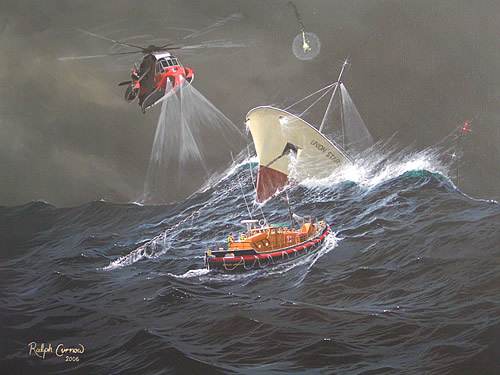 Ralph Curnow
Ralph Curnow is a marine artist based in Penzance in Cornwall. A self-taught artist, he has been painting since around 2001. Ralph's paintings have been sold over the world, to the US, the Caribbean and Holland. Two of his paintings are being used in a new maritime museum in Holland.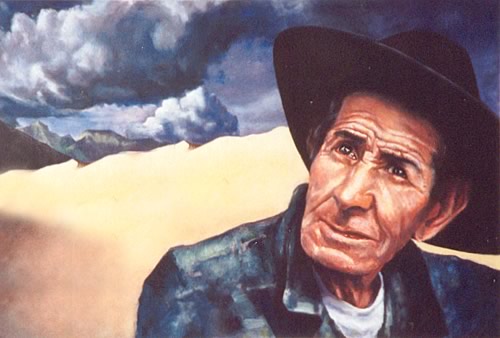 Richard Gelsthorpe
Richard Gelsthorpe's illustrations are produced in oils/ alkyds on board. Work has included editorial, childrens book, adult fiction and life science illustration. Clients include Devon and Cornwall Media Ltd., Daily Mail Group, E.M.C. Design, Richmond Publishing.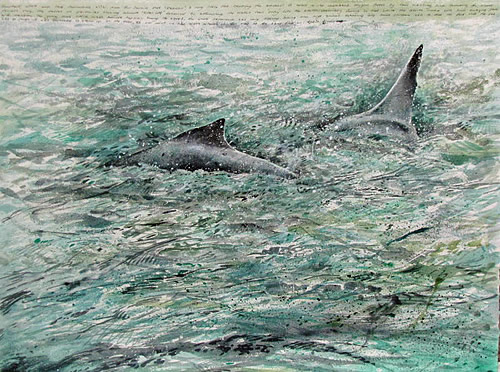 Robin Armstrong
Born in 1947, Robin Armstrong has been painting Wildlife since he sold his first picture of a Prairie Falcon to the milkman at the age of 12. A move to the West Country in the early 1970's saw his style move away from the more traditional to what Tom Quinn in his book "Angling in Art" described as "Romantic and vaguely impressionistic". Frequent exhibitions in both London and in the West Country have brought his unique style to the attention of collectors from Europe, the United States and Canada.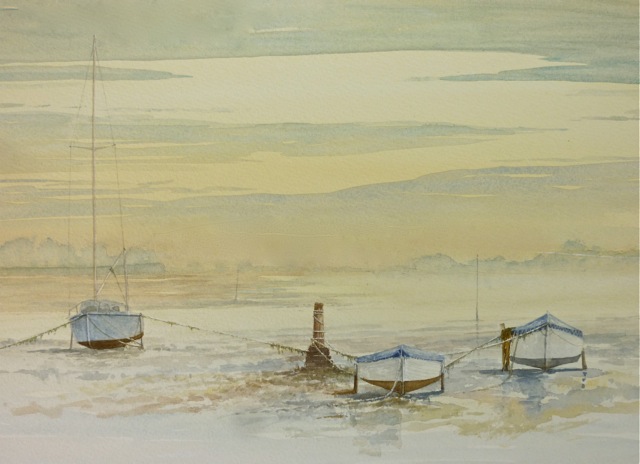 Roger Jardine
Roger has lived in Cornwall for over 25 years and is drawn to the variety of painting opportunities that the Cornish landscape has to offer. From the rugged north coastline to the wilds of Bodmin moor, the peaceful river inlets of the south coast and of course the many delightful fishing villages, there is plenty to keep the keen artist occupied.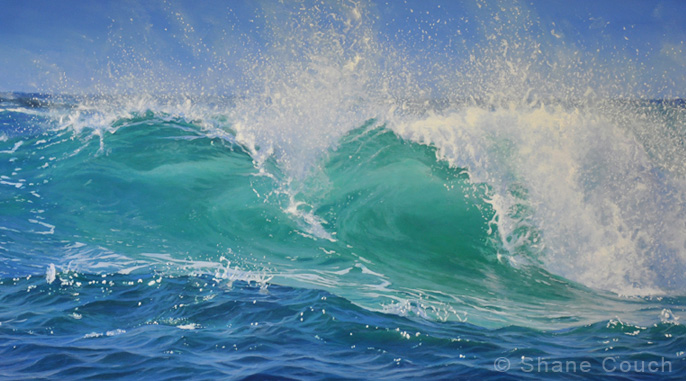 Shane Couch
Since childhood I have had a fascination with the sea. It has been the inspiration behind my artistic journey. As a self taught artist I have developed the skills best suited to attempt to capture this element. I work in oils , a medium I have found to both suit my personality and best represent the feeling and movement of the sea. Most of my paintings are inspired by walks along the shore when a momentary moment in time will spark the artistic vision.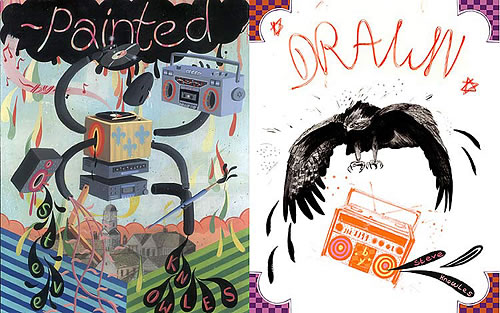 Stephen Knowles
Stephen Knowles originally hails from a small town called Heathfield, East Sussex, where after finishing school he attended Eastbourne college of art and design. Seizing the opportunity to get out of the south east of England and lured by a prospectus filled with images of palm trees and beaches, he moved to Falmouth in south west Cornwall to pursue a degree in illustration at the college of arts.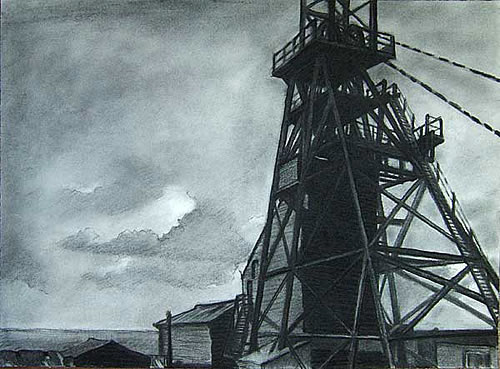 Tom Henderson Smith
As a Cornwall-based artist since 1980 I feel that I am able to create paintings and charcoal drawings that reflect something of the unique character of this part of the UK. The style or approach to painting that I use is one based on a sense of design that was confirmed for me by two formative years spent in Italy after graduating from Art College in the 1970s.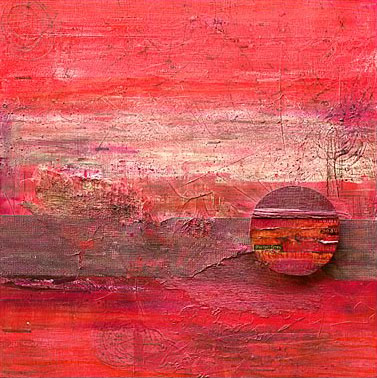 Trudy Ruane
Originally a Fine Art graduate from St Martins school of Art, London and more recently studying for an MA in Art History at University College Falmouth, Trudy's work as an artist has been complemented with that of Interior Design, having worked primarily as a designer for twenty years. Now living in Cornwall as a working artist she draws her inspiration from the year round beauty of her home county.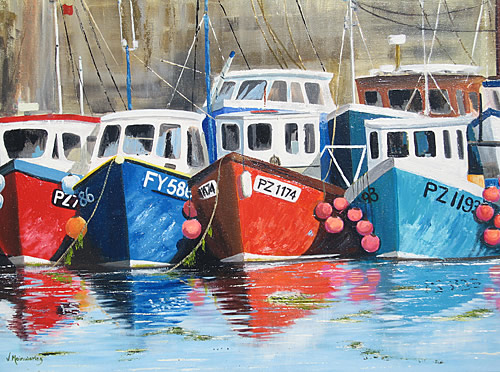 Valerie Mainwaring
I am a so called 'self-taught' artist and tend to paint according to my mood. My paintings consist mainly of 'little people' having a good time. I had, as a child, many a day out with my parents and in a lot of my paintings I try and reflect the good times I had. Walks by the river, fun in the snow, days on the beach etc.